I seek the treasure.  The treasure is found in a variety of settings.  Sometimes it's gravel, sometimes grass or dirt.  It glistens in the sun, available to anyone that is willing to seek it out and pick it up.  I seek it out in blazing sun, rain, and occasionally even snow.  It comes in many sizes, some worth more than others, depending on what you seek.  No, I'm not having Indiana Jones fantasies.  The treasure I seek would bore Indy and not make for a very interesting adventure.  No, the treasure I seek is the humble brass cartridge case.
I am a brass hoarder.  I admit this openly and without shame.  As a competitive shooter, the most economical way for me to acquire ammunition is to hand load my own.  This means I have to purchase powder, primers, and bullets.  But not cases.  I don't know how many I have, but its got to be in the thousands.  I pick them up every time I shoot or visit the range.  Why not?  They're like found money.  I don't know how many times you can reload an individual case, but it must be dozens of times.  I see no reason to just leave them laying there.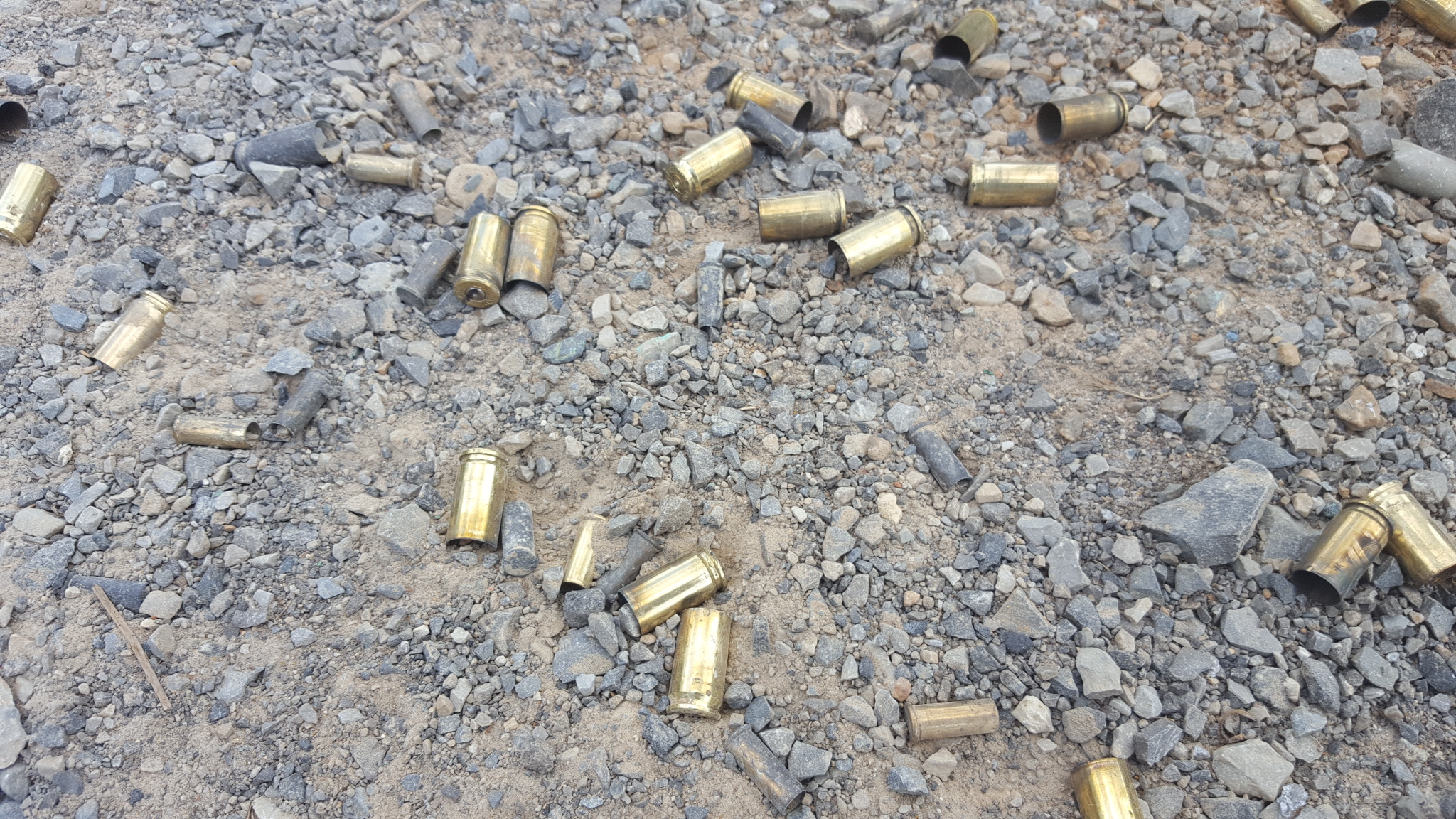 Truth be told, I've picked up cases since before I started reloading.  It just seemed like the sensible thing to do.  The only caliber I reload is 9mm since that's the chambering of my competition and carry pistols, but I have cases in .40 S&W, .45 ACP, .380 ACP, .223 Remington, 30/30 Winchester, and .303 British.  I do not own weapons chambered for .40, .45, or .380!  I've ended up with them in batches of cases that I've picked up or received for working a match.  I'll probably start reloading for the rifles one of these days.  The others I hang on to until I hear of somebody that needs them.
If I'm shooting by myself or with an informal group, I usually wait until I'm done shooting and then I'll try to pick up as many of the fired cases as I can.  In more formal settings, such as during a match, there are definite protocols, if not rules, for when to pick up brass.  It is bad form to get in the way of shooters walking down a stage before they shoot it to pick up brass left by the previous squad.  Following immediately behind a shooter and picking up his brass should be grounds for disqualification.  That's my opinion, feel free to make it your own.  I used to try to pick some up as the match went on, but I'm too busy now helping to run stages.  Afterwards, however, I make time to pick up what I can.  I usually try to find a stage where there is at least one shooting position that everyone used, such as a classifier.  That way, the brass is more or less in one spot.  I have had to learn over the years that I cannot let my OCD-driven need for completion drive me to pick up all of the brass.  I get what I can in a reasonable amount of time, and let the rest go.  It goes against my nature, but sometimes that's for the best!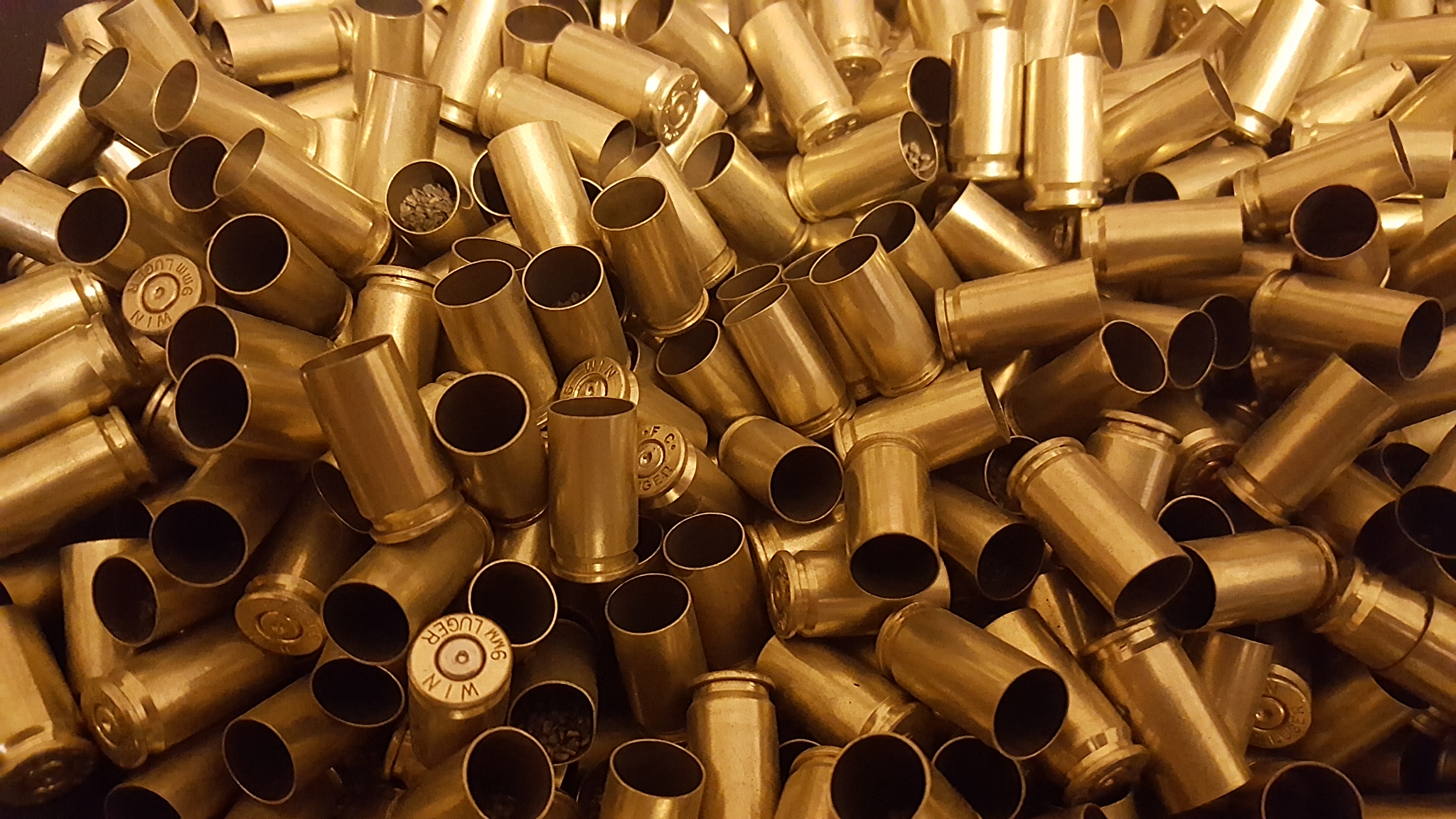 My treasure usually looks pretty rough when I first gather it.  It's usually cleaner to pick it up shortly after it hits the ground, but it doesn't hurt it to be out for a while.  I take it home and give it a good cleaning in corn cob and polish in my tumbler.  Once it comes out of the tumbler, it has a nice, brassy glow about it.  Then it's ready to be deprimed, resized, belled, and loaded into a brand new complete round of ammunition, just waiting for me to pull the trigger and start the process all over again.